Hi everyone! Welcome to the lovely new website!
My name's Chloe, and I'm the rather ominously named 'creator' of the strange creatures littering this corner of the web. I'm now officially a secondary school Biology teacher which is dead grown up and serious and leaves me with very little time for sewing! I started bear-making in the weeks running up to Mothers Day, 2007. Sadly I have 'one of those mothers' who's a little difficult to buy for, and has her birthday and Christmas at that end of the year too. I decided to make her something personal, so bought myself a kit from Bear Basics here in the UK and began. The result was Tedward, a bear I am still proud of. He sits proudly on my mum's dresser at home in the East Midlands, and you can see him below.
Well, I had to do something with that leftover bag of stuffing, didn't I? It snowballed, and the result is what you see before you today: a lot of dozy looking creatures inspired by our own natural world.
Why Je Suis Lugly? Well, the word 'lugly' was kindly donated by the owner of Boar, a 'Lugly gone by', and it's a combination of 'Lovely' and 'Ugly', just like my creatures! As for the 'Je Suis' part... I have no idea. I've never been able to speak French, but it sounded so much nicer than 'I am' (or even 'Ich bin', I suppose!)
Please, if you like what you see drop me an e-mail or add yourself to our mailing list below: I'm using it to let people know of new auctions and sales, and if anything exciting like awards are coming up!
If you'd prefer, you can e-mail by clicking here, or find me on Facebook or Tumblr.
Commission Information
I do sometimes take commissions, but generally only in the Summer holidays (July and August) as my teaching job is very demanding during Term time and I generally use the other holidays to recover and get ahead!
Please e-mail me if you'd like to request a commission using the link above, and I'll let you know a time frame for your piece.
Magazines and Awards
Awards
In 2012 Seymour the Sailor was nominated for a Judges Choice award in the first ever Bear Artistry Awards! Although this is a very new competition entering gave me a great feeling as I got extensive feedback, a statistical analysis and a lovely trophy and badge for Seymour: very extensive!
In 2011 I was blessed with my first ever first place award at the British Bear Artist Awards! the lucky candidate was Bombardier, a brand new design for me which makes the win even more delicious... I have always found bear designs much harder to make so to finally have one that is good enough for first place is a huge achievement for me.
Continuing on from his success in magazines, Jack came in second place in the Furry friends category at the 2011 British Bear Artist Awards. His design was also brand new, making me want to keep designing and working on novel ideas.

In the 2010 British Bear Artist Awards, Rowan the Stargazer bear came third in his category. To me this felt like first as the two ladies who came in first and second (Puca Bears and Katie Rae Bears) are such amazing artists that really only third place was up for grabs!

I was very privileged in 2007 to come third in my category at the British Bear Artist Awards with a bear called Marmite, who I made after only five months of experience and entered on a whim.

Magazine Features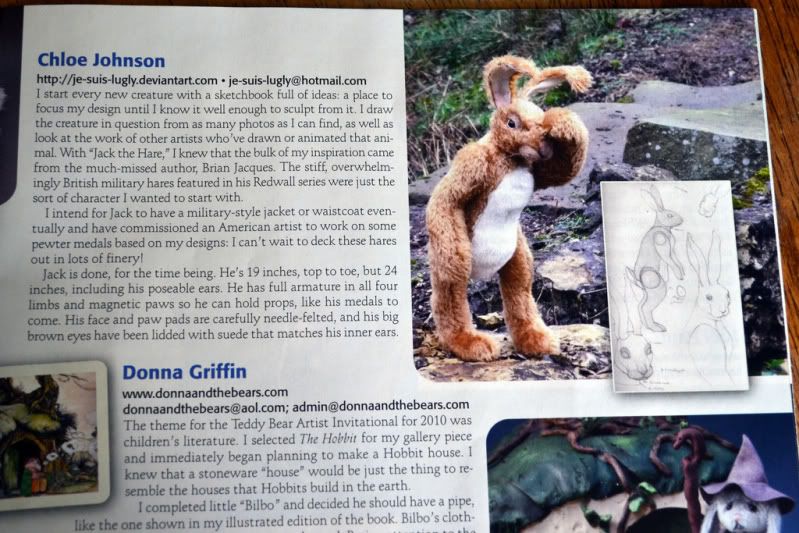 >
In Spring 2011 I began working on a new pattern for a hare. I'm happy to write that the finished creation 'Jack' was featured in both 'Teddy Bear Review' and 'Teddy Bear Times' magazine. The article for the review was focused on our design processes: mine is very involved!

Teddy Bear Times ran an article on people making animals other than bears, which I seem to do a lot of the time… I was so glad to see Jack included!